ON SALE NOW
Introducing the Polaris Lab Water Systems
High Purity Water Made In The USA.
Click here for more info.
Shower Heads and Filters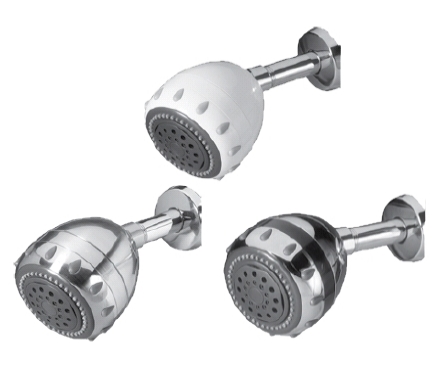 In this section you will find Shower Filter Heads with chlorine removal system remove up to 99% of chlorine through an advanced medium that utilizes the oxidation and reduction of ionsknown as redox. This revolutionary process safely and effectively decreases the amount of chlorine found in shower water where it has its most hazardous effects - making water safer and gentler for everyday use.
More Info
Product Name
Retail Price
Our Price


More Info

Deluxe Shower Head With Filter

Catalog id : SF0501-SH-SN-5

5 spray patterns. Includes Filter - Nickle
$81.61
$57.76


More Info

Deluxe Shower Head With Filter

Catalog id : SF0501-SH-WH-5

5 spray patterns. Includes Filter - White
$75.78
$49.56


More Info

Deluxe Shower Head With Filter

Catalog id : SF0501-SH-CPG-5

5 spray patterns. Includes Filter - Chrome
$69.95
$53.34


More Info

Deluxe Shower Head Replacement Filter

Catalog id : SF0501-SH-FILTER

FIlter for SF0501-SW-WH-5, SF0501-SW-SN-5 and SF0501-SW-CPG-5 Shower heads
$40.23
$28.57



All Images are representative and may or may not be of actual product.



Tags : ENCINO WATER | SHOWER | HEADS | FILTERS

ENCINO-WATER.COM content (C)2009-2023 APS Water Services Corporation - All rights reserved
Website Software - Multi-Website Content Manager - Wilson Web Engineering (C)2012-2023


Micro-Website is a trademark of Wilson Web Engineering

shower heads filters
encino-water.com micro-website™
12/7/2023
4:18:19 PM




Google Apps
---