ON SALE NOW
Introducing the Polaris Lab Water Systems
High Purity Water Made In The USA.
Click here for more info.
Pentek Ametek Carbon Briquette Filter Cartridge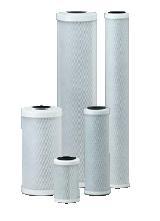 Designed to reduce VOCís chlorine color bodies as well as fine sediment from residential commercial and industrial liquids. Provides high chemical absorption while filtering down to Ĺ .5 microns. They make excellent polishing or pre-filters on many applications.
More Info
Product Name
Retail Price
Our Price


More Info

Taste and Odor Cartridge Filter

Catalog id : CBC 10

Carbon Briquette 9-3/4 inch, 2.5 gpm
$36.20
$26.82


More Info

Taste and Odor Cartridge Filter

Catalog id : CBC-BB

Carbon Briquette 9-3/4 inch, 4.0 gpm
$112.79
$83.54


More Info

Taste and Odor Cartridge Filter

Catalog id : CBC20-BB

Carbon Briquette 20 inch, 5.0 gpm
$218.17
$172.21


More Info

Taste and Odor Cartridge Filter

Catalog id : CBC 20

Carbon Briquette 20 inch, 2.5 gpm
$87.33
$64.69



All Images are representative and may or may not be of actual product.



Tags : ENCINO WATER | PENTEK | AMETEK | | | | CARBON | BRIQUETTE | FILTER | CARTRIDGE

ENCINO-WATER.COM content (C)2009-2023 APS Water Services Corporation - All rights reserved
Website Software - Multi-Website Content Manager - Wilson Web Engineering (C)2012-2023


Micro-Website is a trademark of Wilson Web Engineering

pentek ametek carbon briquette filter cartridge
encino-water.com micro-website™
12/7/2023
2:23:32 PM




Google Apps
---