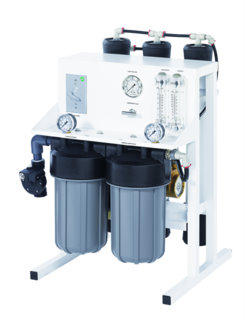 CRO1000AT
Commercial Reverse Osmosis System
1000 gpd - 3-2.5 x 21 Membranes - 0.70 g.p.m.
Retail Price : $7,298.46
Our Low Price : $5,863.81


---
All APS Commercial RO systems include

R.O. CRO-AT Series Reverse Osmosis Systems feature a compact design and only measure 18" in depth, 20" in width and 27" in height. Systems have their prefilters, instrumentation and pressure indicators strategically located in front for ease of service and monitoring. CRO-AT Series Reverse Osmosis Systems are ideal for light commercial applications with feed water up to 2000 TDS and requiring up to 1000 gallons per day.

STANDARD FEATURES


Manual On/Off Control Switch
Powder Coated Aluminum Frame
5 Micron Sediment Prefilter
10 Micron Carbon Block Prefilter
Double O-Ring Filter Housings
Brass Rotary Vane High Pressure Pump
Carbonator High Efficiency Motor
Low Energy TFC Membrane Elements
PVC Membrane Housings
Permeate and Concentrate
Flow Meters
Low Pressure Switch
Feed Solenoid Valve with Manual Bypass
Stainless Steel Concentrate Valve
0-300 psi Pump Pressure Gauge
0-160 psi Prefilter Pressure Gauges
Push/Pull Fittings with Locking Safety Clips
Identification of Components
Factory Tested & Preserved
CE Compliant
Made in the U.S.A


Model
GPD
Membranes
Motor HP
Unit Specifications
Size
Qty
60Hz
Dimensions
Weight
CRO500AT
500
2.5" x 21"
2
1/3
18" x 20" x 27"
65 lbs.
CRO1000AT
1000
2.5" x 21"
3
1/2
18" x 20" x 27"
70 lbs.

See all other Commercial Reverse Osmosis Systems

In order to prolong membrane life, all reverse osmisosis systems require pretreatment to remove chlorine and hardness. If you have chlorine or hardness in your feed water you will need activated carbon for chlorine and a water softener for hardness.


Water Softener Systems



Other related Items :
---
Related Categories
See All :