BS1001
Bacteria Sampler Test Kit
Measures Bacteria In Water. This easy to use device will give you the actual count of how much bacteria you have in your water.
Retail Price : $26.10
Our Low Price : $20.08


---
An easy, reliable, accurate test for bacteria in drinking, pool or hot tub water.

This kit tests a single sample.

To use this kit :

Simply slide the paddle out of the container.
Fill the container to the line with the water you want to test.
Insert the paddle back into the container.
Hold face down for 30 seconds.
Remove the paddle, pour off the water
Place the paddle back into the container and incubate to achieve an accurate bacteria count in 24-72 hours.
For best results you need 98.6 for 72 hours. You can still get readings at room temperature after 24 hours, but scientifically accurate measurements need 98.6.

This paddle measures in colony forming units per milliliter. CFU/ML Best results when incubated at 98 Degrees F for 72 hbours.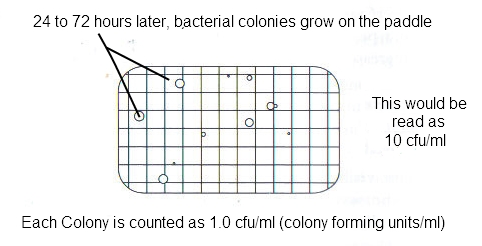 ---
Related Categories